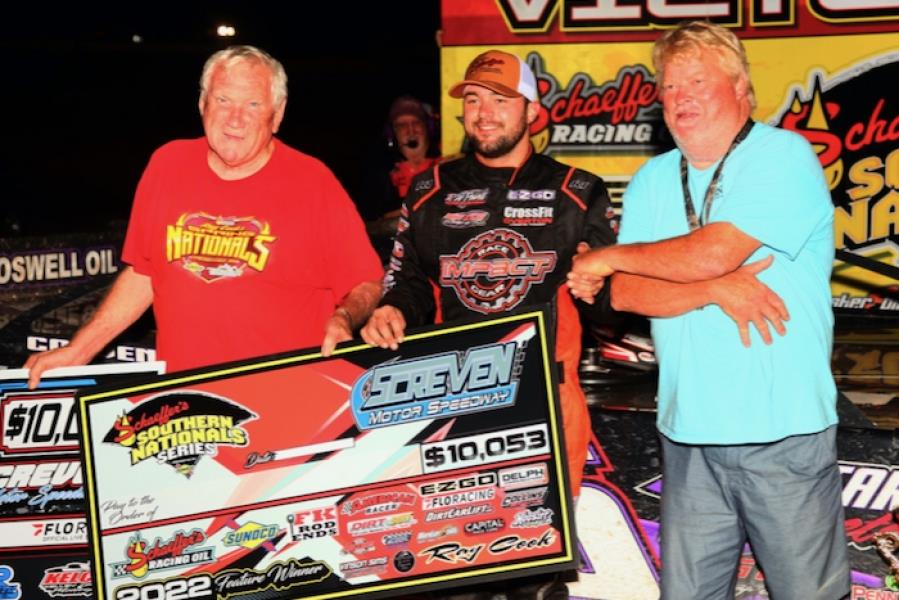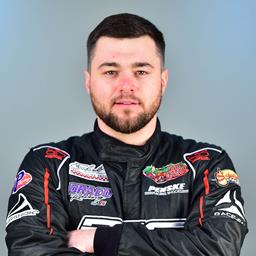 ---
Brandon Overton tops Southern Nationals field at Screven
EVANS, Ga. (07/25/22) – Brandon Overton bagged his 10th win of the year on Saturday night at Screven Motor Speedway. The $10,053 win came with his Wells & Sons Motorsports No. 76 Crossfit Overton / Allstar Concrete/ Longhorn Chassis by Wells Motorsports/ Clements Racing Engines - powered Super Late Model. (Rick Neff photo)
Overton was able to rally late in the race to get to the lead and ultimately the win."
"I was about to run third. I couldn't get back around Jordy (Nipper)," said Overton. "I chose the bottom on the restart and Jordy got me on the top and I was like, 'Damn, I'm gonna be stuck for a little bit.' I seen it kinda rubbering up around the top and I knew I had to hurry up and get back up there. Thankfully everything worked out, and we got the win."
Brandon Overton entered his first Schaeffer's Oil Southern Nationals event of 2022 on Saturday evening as the miniseries invaded Screven Motor Speedway (Sylvania, Ga.) for the annual Rebel Yell.
After registering the third-fastest qualifying lap, Overton dashed to a 10-lap heat race victory. Overtaking the lead late after the front-runner tagged the wall, Brandon bagged his 10th win of the season and a $10,053 paycheck.
He recorded his 20th-career Schaeffer' Southern Nationals victory ahead of Wil Herrington, Mitchell, Jordy Nipper, and Michael Brown.
Sunday's Southern Nationals event at Swainsboro Raceway (Swainsboro, Ga.) fell to Mother Nature.
Full weekend results are available at www.SouthernNationalSeries.com.
This week will find Brandon in action in a trio of Schaeffer's Oil Southern Nationals events beginning with Toccoa (Ga.) Raceway on Tuesday, and followed by Tri-County Race Track (Brasstown, N.C.) on Thursday and Boyd's Speedway (Ringgold, Ga.) on Saturday.
Article Media
Back to News